The seasonality analyzes cycles up to 1 year. In Forecast Cycles page the cyclical analysis extends to larger cycles (2, 3, 5, 10, 20+ years), considering also smaller ones (3mo, 6mo, 1y).
Introduction
In this page is possible to compute the most important cycles in the history of a Ticker and see their extension in the future.
The stronger is the cycles relevance in a financial instrument price evolution, the more is likely that price will follow the cycles extension.
How it is calculated
Since it a purely mathematical analysis, it's possible to extend the function into the future.
A brief description of the computations:
The trend is removed from the price of a Ticker
dozens of sinusoidal cycles are applied, and the ones that approximate best the detrended prices are chosen.
This results in a function consisting of a sum of many cycles, each one with a different weight given by its relevance.
Plot Forecast Cycles Chart
The Cycles analysis and forecast is available for:
all Tickers in database
some Macro & Stats Indicators
To plot a chart it's possible to:
select a Ticker or Indicator from the drop-down Menu, or
search and select a Ticker from the search-box
Chart Description
Below the charts there is a description of the backtest just done. It tells:
the most important Cycles found, sorted by their relevance
the historical-data used to fit the Cycles (In-Sample data)
the Minimum and Maximum Cycles that have been tested

Advanced Filters
After the chart has been drawn, by clicking the lens icon in the bottom-right corner of the page, a window with Advanced Filters will be opened.
It has the following settings:
Year From and Year To

The starting and ending years to be used to fit the cycles to the historical data (In-Sample period). To fit means to compute which cycles have been more adapt to model the time series.
For example:

if 'Year From'='2010'
and 'Year To'='2019'
==> the cycles will be fitted to the time-series using data from '2010-01-01' to '2019-12-31', and
==> the cycles extension will start from 2020-01-01.

Default Values, if you leave the field blank:

Year From: the first year available in the historical data.
Year To: the last year available in the historical data (the current one).
Cycle MIN and Cycle MAX

The periods in years of the Minimum and Maximum Cycles to be tested.
For example

if 'Cycle MIN'='0.5'
and 'Cycle MAX'='10'
==> it will be tested cycles from 6 months to 10 years.

Default Values, if you leave the field blank:

Cycle MIN: 0.25 years, equal to 3 months.
Cycle MAX: up to 70 years, depending to the number of years available in historical data.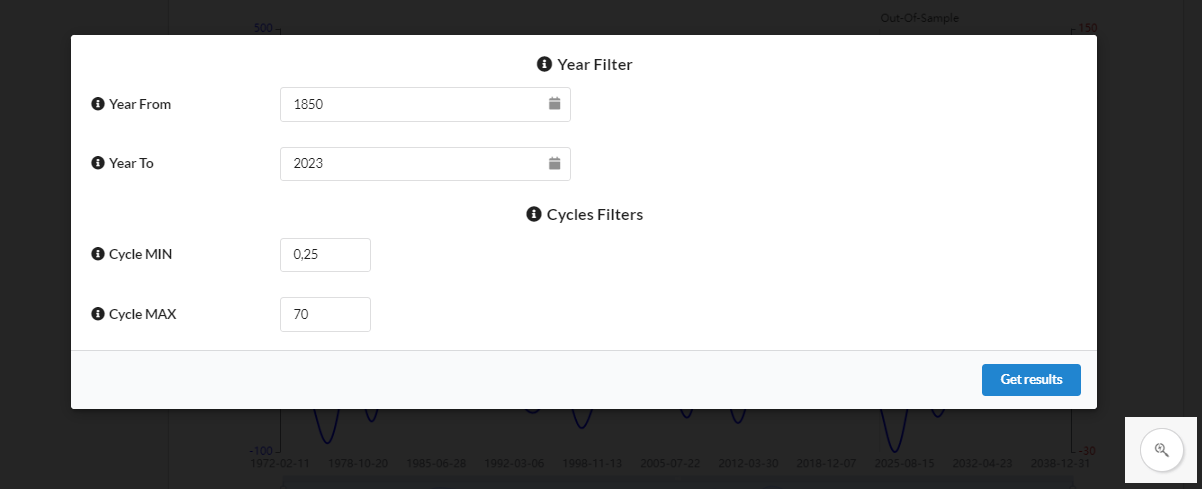 ---
It is possible to explore the platform for Free, and decide later whether to become a Premium member, to unlock full data of Forecast Cycles Charts, and more.