Intraday charts are computed over 15 minutes data, and show the average return of a Ticker, as a cumulative sum of the average return of each 15 minute timespan.
Plot Intraday Chart
Select a Ticker from the drop-down Menu to plot an Intraday Chart.
In the chart:
Y-axis

represents the percentage change of the price
For example, a value of 0.06 = 0.06% of variation

By default, the chart is divided in Weekdays. It's possible to change this feature and other ones.
Advanced Filters
After the chart has been drawn, by clicking the lens icon in the bottom-right corner of the page, a window with Advanced Filters will be opened.
It has the following settings:
Year From and Year To

the years of historical data to be considered in the computation

Separate Weekdays

By default selected, so the in the charts you see returns separated for each Weekday
If deselected, the returns of all the Weekdays will be aggregated

Timezone shift

Data is collected in Chicago Timezone (GMT -6/-5)
TimeZone Shift +7 brings returns in Amsterdam/Berlin//Rome TimeZone (GMT +1/+2)

Months

the months of historical data to be considered in the computation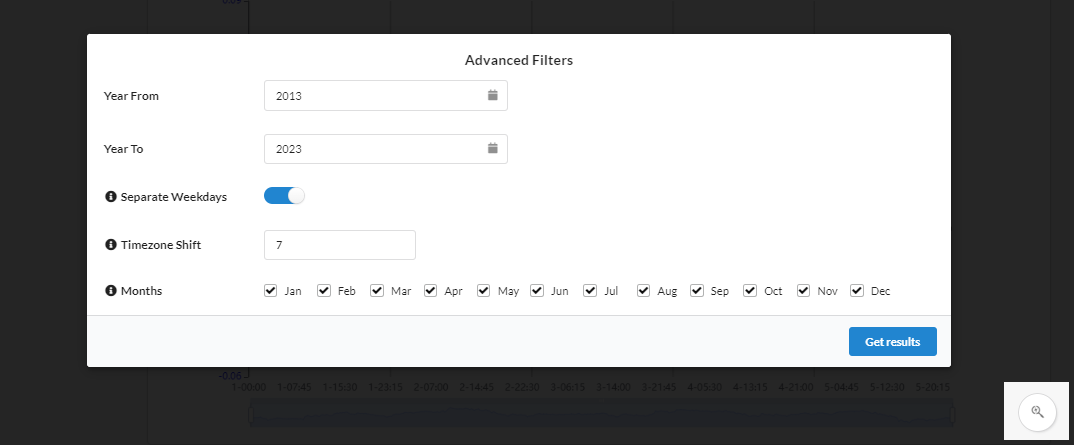 ---
It is possible to explore the platform for Free, and decide later whether to become a Premium member, to unlock full data of Intraday Charts, and more.